Addressing Pain and Substance and Opioid Use Disorders in Rural Communities
More than one million lives have been lost since the start of the opioid crisis, with more than 5 people dying each day in Arizona alone. There are evidence-based solutions for addressing pain and substance and opioid use disorders (SUD/OUD) and recent legislative changes offer the potential to increase access to care.
We organized a one-day interactive training to explore innovative and emerging practices to address this crisis, including prevention, treatment, and recovery strategies.
*This training was supported, in part, by Grant number CDC-RFA-CE19-1904 funded by the Centers of Disease Control and Prevention. Its contents are solely the responsibility of the authors and do not necessarily represent the official views of the Centers for Disease Control and Prevention or the Department of Health and Human Services.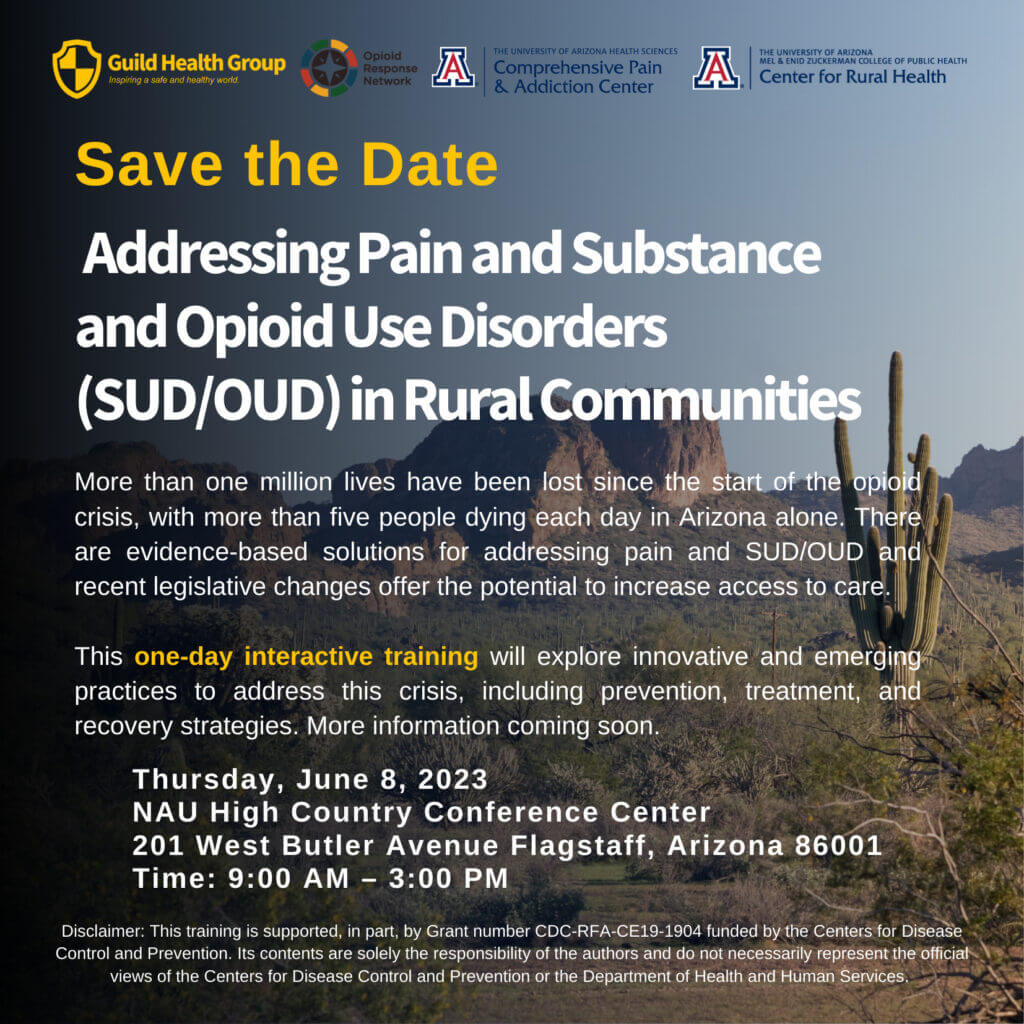 An in depth look at the Opioid Crisis in Arizona Rural Communities
Part 1: Opioid Use Disorder
What are Opioids?
Prescription opioids, fentanyl, and heroin are all drugs used to reduce pain.
What causes addiction?
Opioids' effect on the brain
Family history
Environmental factors
Lifestyle factors
Genetics
However, substance abuse, including opioid addiction, is not yet fully understood.
What is Opioid Use Disorder (OUD)?
A chronic disease where the most detrimental version is opioid addiction.
physical dependence
Heavy, frequent, or risky use
Cravings for the drug
Other symptoms like changes in sleep habits, weight loss, isolation from family or friends, or stealing from family or friends.
Opioid use disorder (OUD) is a chronic disease where the most detrimental version is opioid addiction.
Part 2: Rural Areas
Rural Arizona
Someone living in a rural area in Arizona is 1.32 times as likely to die from an overdose than the average American living in a rural area.
Who is most affected?
Pima, Yavapai, Gila, and La Paz are the counties with the highest overdose death rates. (30 per 100,000)
25- to 34-year-olds had the highest verified non-fatal opioid overdose events and opioid overdose deaths.
72% male overdose deaths
49% white overdose deaths
33% Hispanic or Latino overdose deaths
The most recent action by the state was passing a law requiring electronic prescription of opioids in January 2020.
Part 3: Treatment
Treatment Options
Treatment for OUD follows a similar pattern to the alcoholics' anonymous program.
Education
Motivational enhancement
Self-help groups
Group therapy
Medication or drugs
OUD is a chronic condition and is treated with a cognitive-behavioral approach during rehabilitation and maintenance.
What is Opioid Replacement Therapy?
A common practice for OUD treatment, also known as opioid maintenance or substitution therapy.
This involves the patient using a less addictive opioid, like buprenorphine, methadone, or naltrexone.
to minimize the risk of developing infections such as HIV
to better interpersonal relationships
to alleviate withdrawal symptoms and cravings
to eliminate the need to buy illicit drugs
There is currently no agreement on how long to use opioid replacement therapy or which replacement opioid should be used for which cases.
Part 4: Public Health
What are some current public health strategies?
Strategies to improve substance use disorders in rural communities may include:
Telehealth and mobile based interventions
Peer providers
Prescriber training
Family intervention
School-based prevention programs
School-based health centers (SBHCs)
Transportation services
Some of these strategies have been implemented by organizations in Arizona to reduce the impact of the opioid epidemic.
What is being done?
Training for Community Health Workers, Community Health Representatives, Emergency Medical Technicians, Law Enforcement, and Naloxone
AzMAT Mentors Program
Naloxone Delivery Program
Overdose Data to Action Program
Crisis treatment, Support services, and 24/7 hotlines
Arizona211, OARLine, Talk Now AZ, and Naloxone AZ
Phoenix Area Alcohol and Substance Abuse Program (PAIHS)
Collaboration between local governments, responses, and overall efforts is needed to increase access to prevention programs and treatment centers.